ПСИХОЛОГІЧНІ ІНСТРУМЕНТИ РОЗВИТКУ СТРЕСОСТІЙКОСТІ ФАХІВЦІВ МОРСЬКОГО ТРАНСПОРТУ
Ключові слова:
психологічні інструменти, розвиток, стресостійкість, фахівці морського транспорту, стрес.
Анотація
Статтю присвячено обґрунтуванню психологічних інструментів розвитку стресостійкості фахівців морського транспорту. Зазначається, що підвищенню стресостійкості сприятиме дотримання певних умов - формування знань про стрес, його причини, способи його подолання, про стресостійкість, уявлень про методи психічної саморегуляції та основи управління стресом. І нарешті, навчанню основним навичкам саморегуляції емоційних станів, способам та технікам відновлення після пережитого стресу.
Завантаження
Дані завантаження ще не доступні.
Посилання
Bezluc'ka, O. (2017) Psyhologichni aspekty trenazhernoi' pidgotovky kursantiv Hersons'koi' derzhavnoi' mors'koi' akademii' do roboty v ekstremal'nyh umovah [Psychological aspects of simulator training of cadets of the Kherson State Maritime Academy to work in extreme conditions]. Traektoriâ Nauki. Science International Electronic Scientific Journal. Vol. 3, No 2, 1.7-1.11. https://pathofscience.org/index. php/ps/article/view/287 (in Ukrainian)
Gerganov, L. D. (2013) Trenazherno-praktychna pidgotovka studentiv ta fahivciv plavskladu v mors'kyh navchal'nyh zakladah Ukrai'ny jak instrument bezpeky sudnoplavstva [Exercise and practical training of students and shipbuilding specialists in maritime educational institutions of Ukraine as a tool of navigation safety.]. Vodnyj transport. Vyp. 1, 114–118. (in Ukrainian)
Docenko, V. V. (2018) Cystema psyhologichnyh treningiv jak zasib formuvannja stresostijkosti u pracivnykiv policii' [The system of psychological trainings as a means of forming stress resistance in police officers] Materialy I vseukrai'ns'kogo kruglogo stolu «Aktual'ni naprjamy psyhoprofilaktychnyh zahodiv u zakladah vyshhoi' osvity» (m. Dnipro 18 travnja 2018 roku) / MVS Ukrai'ny, DDUVS. Dnipro, 36-40. (in Ukrainian)
Zajceva, T. G., Hodakovs'kyj, V. F. (2013) Samomenedzhment psyhofizychnyh staniv mors'kyh fahivciv u konteksti posylennja ljuds'kogo resursu ta poperedzhennja avarijnosti na floti [Self-management of psychophysical conditions of maritime specialists in the context of strengthening human resources and preventing accidents in the fleet]. Herson: HDMA. 152 s. (in Ukrainian)
Kokun, O. M. (2004) Optymizacija adaptacijnyh mozhlyvostej ljudyny u psyhofiziologichnomu zabezpechenni dijal'nosti [Optimizing a person's adaptive capabilities in psychophysiological support of activity]: dys... d-ra psyhol. nauk. Instytut psyhologii' im. G.S. Kostjuka APN Ukrai'ny. K. 426 s. (in Ukrainian)
Popova, G. V. (2019) Formuvannja profesijnoi' navigacijnoi' kompetentnosti u majbutnih sudnovodii'v symuljacijnymy tehnologijamy zmishanoi' real'nosti [Formation of professional navigational competence in future shipmasters by simulation technologies of mixed reality]: dys. kand. p. n. Hersons'kyj derzhavnyj universytet. Herson. 227 s. (in Ukrainian)
Chesterton, G. K. (2019) Ortodoksija [Ortodoction]. L'viv: Svichado. New York: Guilford Press. (in Ukrainian)
Prochaska, J. O., Di Clemente, С. C, Norcross, J. C. (1992) In Search of How People Change: Applications to Addictive Behaviors. American Psychologist. Vol 47 N 9, 1102-1114.
Prochaska, J. O., Norcross, J. C. (1994) Di Clemente, С. C. Changing for good. New York: William Morrow and Copmany, inc.
Prochaska, J. O. (1979) Systems of psychotherapy: A transtheoretical analysis. Homewood (IL).
Lazarus, R. S., Launier, R. (1978) Stress-related transactions between person and environment. In: L.A. Pervin, M.Lewis. (Eds.). Perspectives in interactional psychology. New York: Plenum Press, 287-327.
Meichenbaum, D. (1985) Stress inoculation training. New York; Oxford; Toronto; Sydney; Frankfurt: Pergamon Press.
Wolpe, J. (1969) The practice of behavior therapy. New York: Pergamon Press.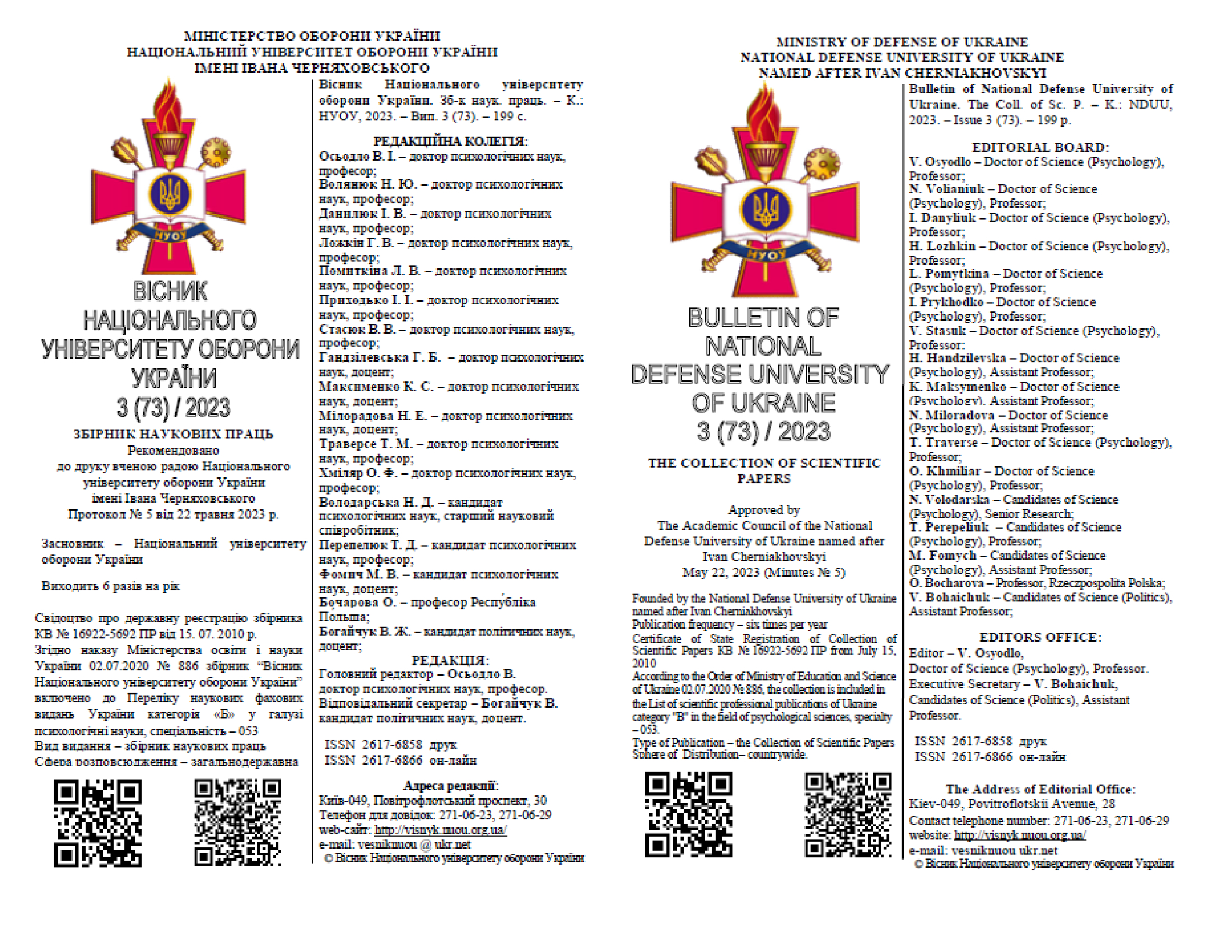 ##submission.downloads##
Як цитувати
Coрoкa О. (2023). ПСИХОЛОГІЧНІ ІНСТРУМЕНТИ РОЗВИТКУ СТРЕСОСТІЙКОСТІ ФАХІВЦІВ МОРСЬКОГО ТРАНСПОРТУ. Вісник Національного університету оборони України, 73(3), 138–148. https://doi.org/10.33099/2617-6858-2023-73-3-138-148
Розділ
ПИТАННЯ ПСИХОЛОГІЇ
Ліцензія
Авторське право (c) 2023 Вісник Національного університету оборони України
Ця робота ліцензується відповідно до Creative Commons Attribution-NonCommercial-ShareAlike 4.0 International License.