ФЕНОМЕН ІМПОСТОРА: ОГЛЯД ЗАКОРДОННИХ ПСИХОЛОГІЧНИХ ДОСЛІДЖЕНЬ
Ключові слова:
феномен імпостора, синдром самозванця, особистість, упереджене міркування, потреба в успіху, страх невдачі, сучасні дослідження.
Анотація
У статті представлено огляд закордонних психологічних досліджень, присвячених феномену імпостора. Розглянуто динаміку розвитку поглядів на феномен. Визначено перспективні напрямки досліджень в межах проблематики, зокрема акцентування уваги на ситуативних компонентах феномену імпостора і на розгортанні характерного для феномену особистісного досвіду з позиції користі для функціонування, адаптації особистості.
Посилання
Bravata, D. M., Watts, S. A., Keefer, A. L., Madhusudhan, D. K., Taylor, K. T., Clark, D. M., Nelson, R. S., Cokley, K. O., & Hagg, H. K. (2020). Prevalence, Predictors, and Treatment of Impostor Syndrome: a Systematic Review. Journal of general internal medicine, 35(4), 1252–1275. https://doi.org/10.1007/s11606-019-05364-1
Bussotti, C. (1991). The impostor phenomenon: Family roles and environment. 51, 4041-4042.
Clance, P. R., & Imes, S. A. (1978). The imposter phenomenon in high achieving women: Dynamics and therapeutic intervention. Psychotherapy: Theory, Research & Practice, 15(3), 241–247. https://doi.org/10.1037/h0086006
Clance, P.R., & OToole, M.A. (1987). The Imposter Phenomenon: An Internal Barrier to Empowerment and Achievement. Women & Therapy, 6, 51-64.
de Vries M. F. (2005). The dangers of feeling like a fake. Harvard business review, 83(9), 108–159.
Gadsby, S. & Hohwy, J. (2022). Incentivising accuracy reduces bias in the imposter phenomenon. Current Psychology. 10.1007/s12144-022-03878-2.
Gadsby, S., & Hohwy, J. (2021). Negative Performance Evaluation in the Imposter Phenomenon: Content, Cause, and Authenticity. https://doi.org/10.31234/osf.io/4neaj
Gómez-Morales A. (2021). Impostor Phenomenon: A Concept Analysis. Nursing science quarterly, 34(3), 309–315. https://doi.org/10.1177/08943184211010462
Harper, J. M., & Hoopes, M. H. (1990). Uncovering shame: An approach integrating individuals and their family systems. WW Norton & Co.
Harvey J. C. & Katz C. (1985). If i'm so successful why do i feel like a fake? : the impostor phenomenon (1st ed.). St. Martin's Press. 246.
Harvey, J. C. (1982). Thes impostor phenomenon and achievement: A failure to internalize success. Dissertation Abstracts International, 42(12-B, Pt 1), 4969–4970.
Henning, K., Ey, S., & Shaw, D. (1998). Perfectionism, the imposter phenomenon and psychological adjustment in medical, dental, nursing and pharmacy students. Medical education, 32(5), 456–464. https://doi.org/10.1046/j.1365-2923.1998.00234.x
Kolligian Jr, J., & Sternberg, R. J. (1991). Perceived fraudulence in young adults: Is there an 'imposter syndrome'?. Journal of personality assessment, 56(2), 308-326.
Langford, J., & Clance, P. R. (1993). The imposter phenomenon: Recent research findings regarding dynamics, personality and family patterns and their implications for treatment. Psychotherapy: Theory, Research, Practice, Training, 30(3), 495–501. https://doi.org/10.1037/0033-3204.30.3.495
Leary, M. & Patton, K. & Orlando, A. & Funk, W. (2000). The Impostor Phenomenon: Self-Perceptions, Reflected Appraisals, and Interpersonal Strategies. Journal of personality. 68. 725-56. 10.1111/1467-6494.00114.
Leonhardt, M., Bechtoldt, M. N., & Rohrmann, S. (2017). All impostors aren't alike—Differentiating the impostor phenomenon. Frontiers in Psychology, 8, Article 1505. https://doi.org/10.3389/fpsyg.2017.01505
McElwee, R. & Yurak, T. (2010). The phenomenology of the impostor phenomenon. Individual Differences Research. 8. 184-197.
Oriel, K., Plane, M. B., & Mundt, M. (2004). Family medicine residents and the impostor phenomenon. Family medicine, 36(4), 248–252.
Sakulku, J. (2011). The Impostor Phenomenon. The Journal of Behavioral Science, 6(1), 75–97. https://doi.org/10.14456/ijbs.2011.6
Sonnak, C., & Towell, T. (2001). The impostor phenomenon in British university students: Relationships between self-esteem, mental health, parental rearing style and socioeconomic status. Personality and Individual differences, 31(6), 863-874.
Stone-Sabali, S., Bernard, D.L., Mills, K.J. et al. Mapping the evolution of the impostor phenomenon research: A bibliometric analysis. Curr Psychol (2023). https://doi.org/10.1007/s12144-022-04201-9
Want, J., & Kleitman, S. (2006). Imposter phenomenon and self-handicapping: Links with parenting styles and self-confidence. Personality and Individual Differences, 40, 961-971.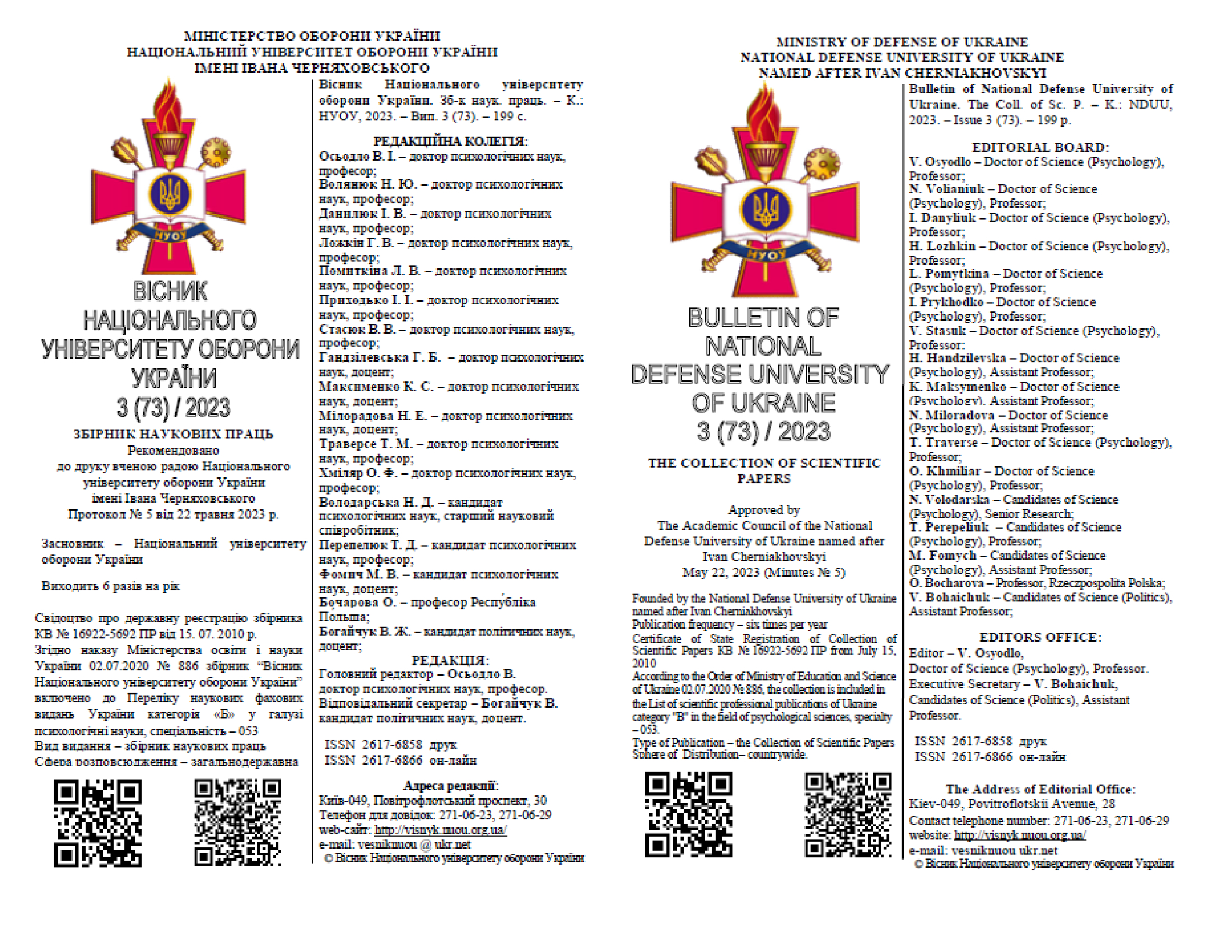 ##submission.downloads##
Як цитувати
Костюченко, Є. (2023). ФЕНОМЕН ІМПОСТОРА: ОГЛЯД ЗАКОРДОННИХ ПСИХОЛОГІЧНИХ ДОСЛІДЖЕНЬ. Вісник Національного університету оборони України, 73(3), 91–96. https://doi.org/10.33099/2617-6858-2023-73-3-91-96
Розділ
ПИТАННЯ ПСИХОЛОГІЇ
Ліцензія
Авторське право (c) 2023 Вісник Національного університету оборони України
Ця робота ліцензується відповідно до Creative Commons Attribution-NonCommercial-ShareAlike 4.0 International License.