ТЕОРЕТИКО-ЕМПІРИЧНИЙ АНАЛІЗ ПРОБЛЕМИ ЕМОЦІЙНОГО ВИГОРАННЯ ПСИХОЛОГІВ СЕКТОРУ ОБОРОНИ ТА БЕЗПЕКИ УКРАЇНИ
Ключові слова:
емоційне вигорання, екстремальні психологи, сектор оборони та безпеки України, ознаки професійного вигорання.
Анотація
Здійснюється теоретичний аналіз проблеми емоційного вигорання психологів сектору оборони та безпеки України. Обґрунтовується, що діяльність екстремальних психологів, пов'язана із отриманням негативної емоціогенної інформації, аналізом минулих травматичних подій клієнтів тощо, що прямо чи опосередковано впливає на особистість та поведінку психологів і може спричиняти їх емоційне вигорання. Наводяться результати емпіричного дослідження ознак професійного вигорання серед психологів правоохоронних органів і військових формувань. Виявлено, що більше половини досліджених екстремальних психологів мають різні ознаки емоційного професійного вигорання.
Посилання
Blinov, O. A. (2019) Boiova psykhichna travma [Combat mental trauma]: monohrafiia. Kyiv : Talkom. 700 s. (in Ukrainian)
Kostiuk, A. V. (2011) Psykholohichni osoblyvosti emotsiinoho vyhorannia operatyvnykh psykholohiv [Psychological features of emotional burnout of operational psychologists] : avtoref. dys. na zdobyttia stypenia kand. psykhol. nayk : spets. 19.00.01 «Zahalna psykholohiia; istoriia psykholohii». Odesa. 21 s. (in Ukrainian)
Kurylo, V. I., Korsun, S. I., & Shushkovskyi, H. V. (2020) Pravove rehuliuvannia psykholohichnoho suprovodu diialnosti pratsivnykiv ekstremalnoho profiliu [Legal regulation of psychological support of the activities of extreme profile employees]. Internauka. Seriia: Yurydychni nauky.. № 1. Rezhym dostupu: https://www.inter-nauka.com/archive/archive-of-issues-pravo , DOI: 10,.25313/2520-2308-2020-1-5593 (in Ukrainian)
Kufliievskyi, A. S. (2006) Sotsialno-psykholohichni determinanty rozvytku syndromu «vyhorannia» sered pratsivnykiv pozhezhno-riatuvalnykh pidrozdiliv MNS Ukrainy [Socio-psychological determinants of the development of the "burnout" syndrome among employees of fire and rescue units of the Ministry of Emergency Situations of Ukraine] : dys... kand. psykhol. nauk: 19.00.09. Un-t tsyvil. zakhystu Ukrainy. Kh. 149 c. (in Ukrainian)
Lototska-Holub, L. L. (2016) Sotsialno-psykholohichni chynnyky rezystentnosti do emotsiinoho vyhorannia u profesiinii diialnosti likariv [Socio-psychological factors of resistance to emotional burnout in the professional activity of doctors]. Dysertatsiia na zdobuttia naukovoho stupenia kandydata psykholohichnykh nauk: 19.00.07 Kyiv. 258 s. (in Ukrainian)
Malysheva, K. O. (2003) Syndrom emotsiinoho vyhorannia psykholoha-konsyltanta: psykholohichni chynnyky, profilaktyka ta korektsiia [Emotional burnout syndrome of a consultant psychologist: psychological factors, prevention and correction]: avtoref. dys. na zdobyttia stypenia kand. psykhol. nayk : spets. 19.00.04 «Medychna psykholohiia». K. 16 s. (in Ukrainian)
Matviienko, L. I., & Zahrebelna, Ya. O. (2014) Chynnyky emotsiinoho vyhorannia u predstavnykiv sotsionomichnykh profesii [Factors of emotional burnout among representatives of socio-economic professions]. Rynok pratsi ta zainiatist naselennia. № 2 (39). S. 30–35. (in Ukrainian)
Mishchenko, M. S. (2016) Psykholohichni chynnyky zapobihannia syndromu emotsiinoho vyhorannia u maibutnikh praktychnykh psykholohiv [Psychological factors of prevention of emotional burnout syndrome in future practical psychologists] : monohrafiia. Uman : VPTs «Vizavi». 236 s. (in Ukrainian)
Miroshnychenko, O. A. (2015) Profilaktyka syndromu «profesiinoho vyhorannia» u pratsiuiuchykh v ekstremalnykh umovakh [Prevention of "professional burnout" syndrome in workers in extreme conditions]: Navchalno-metodychnyi posibnyk. Zhytomyr: Vyd-vo ZhDU im. I. Franka. 156 s.
Poviakel, N., & Fedorenko A. (2011) Profilaktyka profesiinoi dezadaptatsii psykholohiv-praktykiv [Prevention of professional maladaptation of practicing psychologists]. K. : Shkilnyi svit. 128 s. (in Ukrainian)
Sirko, R. I. (2017) Profesiina pidhotovka maibutnikh psykholohiv operatyvno-riatuvalnoi sluzhby do diialnosti v ekstremalnykh umovakh [Professional training of future psychologists of the operational rescue service for activities in extreme conditions]: monohrafiia. Lviv: «HALYCh-PRES». 482 s. (in Ukrainian)
Khairulin, O. M. (2015) Psykholohiia profesiinoho vyhorannia viiskovosluzhbovtsiv [Psychology of professional burnout of military personnel]: monohrafiia [za nauk. red. A. V. Furmana]. Ternopil : TNEU. 219 s. (in Ukrainian)
Chemodurova, Yu. M. (2019) Psykholohichni umovy podolannia profesiinykh deformatsii praktychnykh psykholohiv u systemi pisliadyplomnoi osvity [Psychological conditions for overcoming professional deformations of practical psychologists in the postgraduate education system]: avtoref. dys. ... kand. psykhol. nauk : 19.00.07. Natsyonalnыi pedahohycheskyi unyversytet ymeny M.P. Drahomanova, Kyev. 21 s. (in Ukrainian)
Iaromenok, M. A. (2017) Profesiine vyhorannia yak chynnyk psykhichnoho zdorovia prokurora [Professional burnout as a factor in the prosecutor's mental health]. Yurydychna psykholohiia. № 2 (21). S. 185-195. (in Ukrainian).
Biletskyі, P. S. (2019) Socio-psychological conditions of saving professional health of medical industry professionals / P.S. Biletskyі // Virtus : Scientific Journal. Series : Philosophy. Psychology. Pedagogy. Issue 39. Canada : Center of modern pedagogy «Learning without Frontiers»,. Р. 36 – 40.
Lefterov, V. O., Timchenko, О. V., Tsilmak, О. M., & Ignatieva, I. I. (2020) Simulation and psychological trainings as methods of preventing emotional burnout in doctors. World of Medicine and Biology. №2(72). С. 85-89 URL: https://womab.com.ua/smb-2020-02/8456 (DOI 10.26724/2079-8334-2020-2-72-85-89).
Lloyd, C., King, R., & Chenoweth, L. (2002) Social work, stress and burnout: A review. Journal of Mental Health. V. 11. Р. 255–256.
Timchenko, O., Onishchenko, N., Perelygina, L., Prykhodko, I., Lefterov, V., & Ivanchenko, A. (2022). Ukrainian rescuers in local armed conflict conditions: how does it affect the psyche? Minerva Psychiatry. June;63(2), Р. 159-170. DOI: 10.23736/S2724-6612.21.02242-9.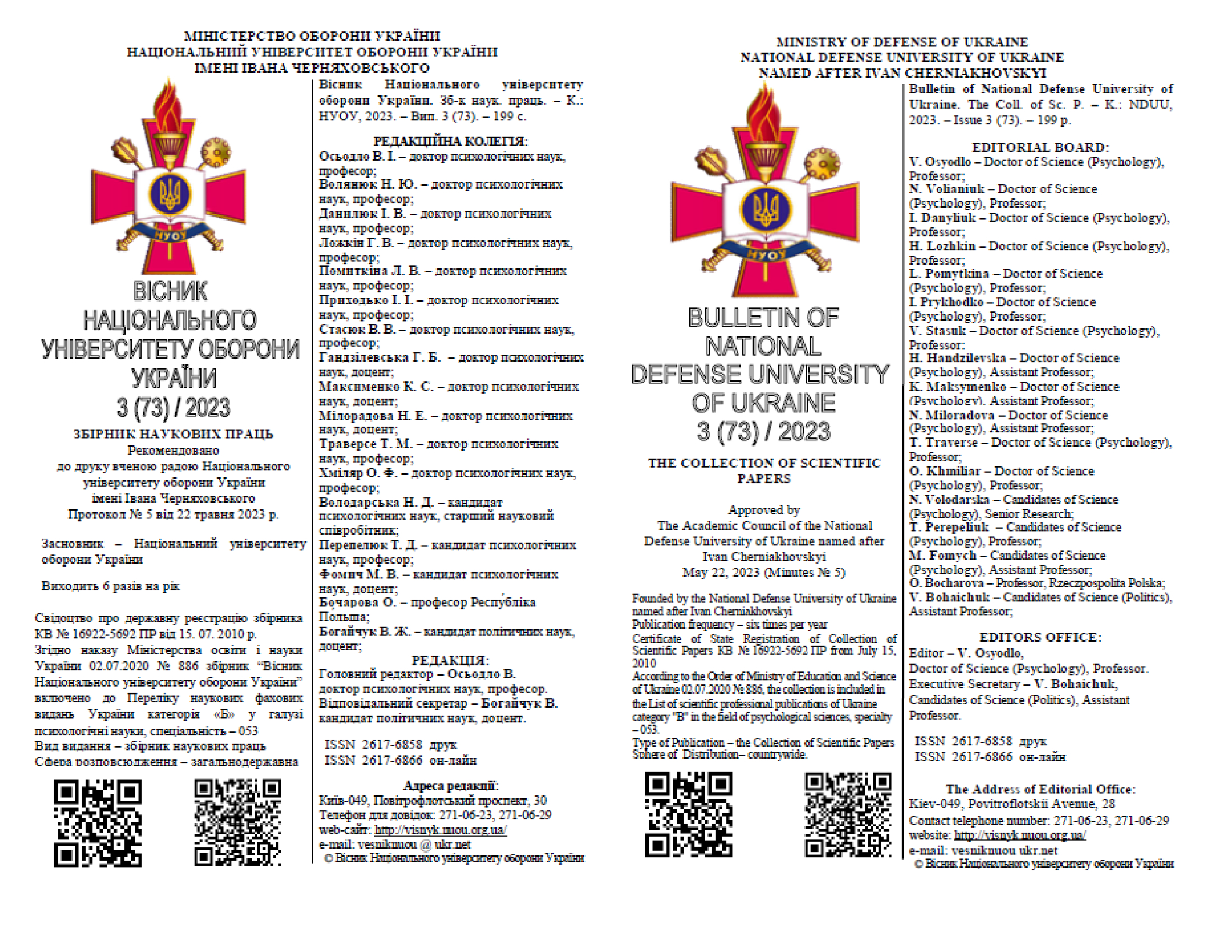 ##submission.downloads##
Як цитувати
Босько, В. (2023). ТЕОРЕТИКО-ЕМПІРИЧНИЙ АНАЛІЗ ПРОБЛЕМИ ЕМОЦІЙНОГО ВИГОРАННЯ ПСИХОЛОГІВ СЕКТОРУ ОБОРОНИ ТА БЕЗПЕКИ УКРАЇНИ. Вісник Національного університету оборони України, 73(3), 41–49. https://doi.org/10.33099/2617-6858-2023-73-3-41-49
Розділ
ПИТАННЯ ПСИХОЛОГІЇ
Ліцензія
Авторське право (c) 2023 Вісник Національного університету оборони України
Ця робота ліцензується відповідно до Creative Commons Attribution-NonCommercial-ShareAlike 4.0 International License.