РЕПРЕЗЕНТАЦІЯ ЕМОЦІЙ УКРАЇНСЬКИМИ КОРИСТУВАЧАМИ СОЦІАЛЬНИХ МЕРЕЖ ЗА ДОПОМОГОЮ КОНЦЕПТУ ВІЙНА
Ключові слова:
емоційні смисли, концепт, дискурсивний аналіз, російсько-українська війна.
Анотація
У статті за допомогою концепту ВІЙНА визначено особливості репрезентації емоцій українськими користувачами соціальних мереж на початок 2023 року. Доведено, що концепт ВІЙНА завжди інтегрує різноманітні емоційні смисли, але в період війни росії проти України відносна вага цих смислів різниться від інших історичних періодів завдяки особливому психоемоційному стану особистості та суспільства, що є знаковим представленням нації.
Завантаження
Дані завантаження ще не доступні.
Посилання
Bar-Tal, D. (2001). Why does fear override hope in societies engulfed by intractable conflict, as it does in the Israeli society? Political Psychology, 22, 601-627. https://doi.org/10.1111/0162-895X.00255
von Scheve, C., & Ismer, S. (2013). Towards a Theory of Collective Emotions. Emotion Review, 5(4), 406-413. https://doi.org/10.1177/1754073913484170
Tajfel, H. (1981). Human groups and social categories: Studies in Social Psychology. Cambridge, UK: Cambridge University Press.
Parkinson, B., Fischer, A.H., Manstead, A.S.R. (2005). Emotion in Social Relations: Cultural, Group, and Interpersonal Processes. New York, NY: Psychology Press.
Kessler, T., Hollbach, S. (2005). Group-based emotions as determinants of ingroup identification. Journal of Experimental Social Psychology, 41, 677-685. https://doi.org/10.1016/j.jesp.2005.01.001
Smith, E. R., Mackie, D. M. (2006). It's about time: Intergroup emotions as time-dependent phenomena. In R. Brown, D. Capozza (Eds.), Social identities: Motivational, emotional, and cultural influences (pp. 173-187). Hove, UK: Psychology Press.
Stodulka, T. (2017). Towards an integrative anthropology of emotion: A case study from Yogyakarta. In A. Storch (Ed.), Consensus and dissent: Negotiating emotion in the public space (pp. 9-34). Amsterdam: John Benjamins.
Rimé, B. (2009). Emotion elicits the social sharing of emotion: Theory and empirical review. Emotion Review, 1, 60-85.
Hoemann, K., Xu, F., & Barrett, L. F. (2019). Emotion words, emotion concepts, and emotional development in children: A constructionist hypothesis. Developmental psychology, 55(9), 1830-1849. https://doi.org/10.1037/dev0000686
Kövecses, Z. (2014). Conceptualizing emotions. A revised cognitive linguistic perspective. Poznan Studies in Contemporary Linguistics, 50. https://doi.org/10.1515/psicl-2014-0002
Vigliocco, G., Meteyard, L., Andrews, M., & Kousta, S. (2009). Toward a theory of semantic representation. Language and Cognition, 1(2), 219-247. https://doi.org/10.1515/LANGCOG.2009.011
von Scheve, C. & Slaby, J. (2019). Emotion, emotion concept. In: Slaby, J. & von Scheve, C. (Ed.), Affective Societies: Key Concepts (pp. 43-51). New York: Routledge. https://doi.org/10.4324/9781351039260-3
Kövecses, Z. (2005). Metaphor in culture: Universality and variation. Cambridge, UK: CambridgeUniversity Press. https://doi.org/10.1017/CBO9780511614408
Kövecses, Z. (2008). Metaphor and emotion. In R. Gibbs (Ed.), The Cambridge Handbookof Metaphor and Thought (pp. 380-396). New York: Cambridge University Press.
Kövecses, Z. (2010). Metaphor. A Practical Introduction. New York:Oxford University Press.
Winkielman, P., Coulson, S., & Niedenthal, P. (2018). Dynamic grounding of emotion concepts. Philosophical transactions of the Royal Society of London. Series B, Biological sciences, 373(1752). https://doi.org/10.1098/rstb.2017.0127
Blom, S.A.H., Aarts, H. & Semin, G.R. (2021). Perceiving emotions in visual stimuli: social verbal context facilitates emotion detection of words but not of faces. Experimental Brain Research, 239, 413-423. https://doi.org/10.1007/s00221-020-05975-9
Aranguren, M. (2017) Reconstructing the social constructionist view of emotions: from language to culture, including nonhuman culture. Journal for the Theory of Social Behaviour, 47, 244-260. https://doi.org/10.1111/jtsb.12132
Edwards, D. (2005). Discursive psychology. In K. L. Fitch & R. E. Sanders (Eds.), Handbook of language and social interaction (pp. 257-273). Lawrence Erlbaum Associates Publishers.
Potter, J. and Wiggins, S. (2007) Discursive psychology. In C. Willig, W.S.Rogers (Eds.), Sage Handbook of qualitative research in psychology (pp. 73-90). SAGE Publications Ltd.
Hepburn, A., & Potter, J. (2003). Discourse analytic practice. Loughborough University. In C. Seale, D. Silverman, J. Gubrium & G. Gobo (Eds) Qualitative research practice (pp. 180-196). London; Sage.
Dixon, R.M.W. (2007). Field linguistics: A minor manual. Language Typology and Universals, 60, 12-31. https://doi.org/10.1524/stuf.2007.60.1.12
Kholod, A. (2019). The Problems of Psycholinguistic Research Methodology and Quantum Approach. PSYCHOLINGUISTICS, 25(2), 338-370. https://doi.org/10.31470/2309-1797-2019-25-2-338-370
Wierzbicka, A. (1992). Defining Emotion Concepts. Cognitive Science, 16(4), 539-581. 10.1207/s15516709cog1604_4
Hampe, B., & Grady, J. (2005). From perception to meaning: Image schemas in cognitive linguistics. Berlin/New York: Mouton de Gruyter. doi:10.1515/9783110197532
Evans, V. (2007). A Glossary of Cognitive Linguistics. Edinburgh: Edinburgh University Press.
Langacker, R. (2002). Concept, Image, Symbol. Berlin: Mouton de Gruyter.
Kramsch, C., & Zhu Hua (2016). Language, Culture and Language Teaching. In G. Hall (Ed.), Routledge Handbook of English Language Teaching (pp.38-50). London: Routlege.
Bietti, L. (2012). Joint remembering: Cognition, communication and interaction in processes of memory-making. Memory Studies, 5, 182-205. https://doi.org/10.1177/1750698011404986
Olick, J. K., Robinson, J. (1998). Social memory studies: From "collective memory" to the historical sociology of mnemonic practices. Annual Review of Sociology, 24, 105-140.
Oatley, K. (2000). The sentiments and beliefs of distributed cognition. In N. H. Frijda, A. S. R. Manstead, S. Bem (Eds.), Emotions and beliefs (pp. 78-107). Cambridge, UK: Cambridge University Press.
Deckers, M., Altmann, T. & Roth, M. (2022). The role of individual personality in conceptualizing and measuring group characteristics. Current Psychology, 41, 4054-4065. https://doi.org/10.1007/s12144-020-00919-6
Dalbey, B., Saad, B. (2022). Internal constraints for phenomenal externalists: a structure matching theory. Synthese, 200, 348. https://doi.org/10.1007/s11229-022-03829-1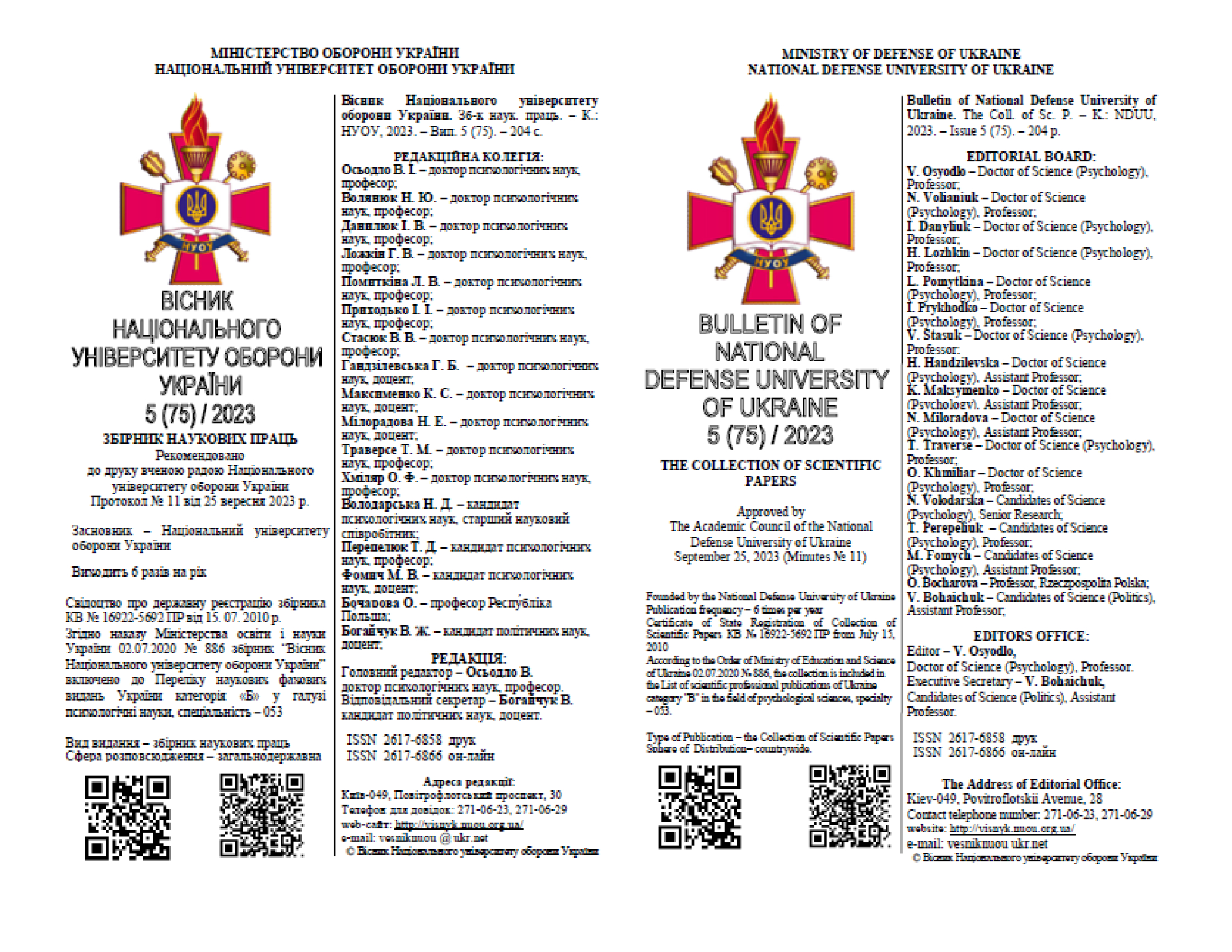 ##submission.downloads##
Як цитувати
Храбан, Т. (2023). РЕПРЕЗЕНТАЦІЯ ЕМОЦІЙ УКРАЇНСЬКИМИ КОРИСТУВАЧАМИ СОЦІАЛЬНИХ МЕРЕЖ ЗА ДОПОМОГОЮ КОНЦЕПТУ ВІЙНА. Вісник Національного університету оборони України, 75(5), 164–171. https://doi.org/10.33099/2617-6858-2023-75-5-164-171
Розділ
ПИТАННЯ ПСИХОЛОГІЇ
Ліцензія
Авторське право (c) 2023 Вісник Національного університету оборони України
Ця робота ліцензується відповідно до Creative Commons Attribution-NonCommercial-ShareAlike 4.0 International License.