КАТЕГОРІЯ ЗДОРОВ'Я ТА ЙОГО ПСИХОЛОГІЧНОГО ЗАБЕЗПЕЧЕННЯ У НАУКОВІЙ ЛІТЕРАТУРІ
Ключові слова:
категорія здоров'я, психологічне забезпечення, наукова література.
Анотація
З'ясовано, що здоров'я розглядається як здатність людини в динаміці досягати оптимуму власних фізичних, психічних і соціальних можливостей у відповідності до вимог середовища, що забезпечує життєдіяльність, якості життя, його тривалість і досягнення цілей. Встановлено, що психологічне забезпечення професійного здоров'я - це система організаційних психологічних заходів, які спрямовані на формування, збереження, підтримку та відновлення професійного здоров'я фахівців.
Завантаження
Дані завантаження ще не доступні.
Посилання
Boltivets S.I. (2017) Aparaturno-psykholohichna obiektyvizatsiia indykatoriv psykhichnoho zdorovia. Psykhichne zdorovia. [Hardware and psychological objectification of mental health indicators. Mental health]. №3(52). (in Ukrainian)
Boltivets S.I. (2010). Zdorovia psykhichne. Entsyklopediia Suchasnoi Ukrainy. [Mental health. Encyclopedia of Modern Ukraine]. Kyiv: In-t entsyklopedychnykh doslidzhen, T. 10. (in Ukrainian)
Boltivets S.I. (2020). Psykhohihiiena yak dystsyplinarnyi napriam psykholohichnoi nauky. [Psychohygiene as a disciplinary direction of psychological science]. Psykholohiia i suspilstvo. № 3(81). (in Ukrainian)
Haletska I., Sosnovskyi T. (2006). Psykholohiia zdorovia. [Health psychology]. - Lviv: Vydavnychyi tsentr LNU imeni Ivana Franka. [In Ukrainian].
Karamushka L. (2022). Psykhichne zdorovia personalu orhanizatsii v umovakh viiny: osnovni vyiavy ta resursy [Mental health of personnel of organizations in conditions of war: basic findings and resources]. / ISSN (Print) 2307-6968, ISSN (Online) 2663-2209 Vcheni zapysky Universytetu «KROK» №3 (67). (in Ukrainian)
Karamushka, L. (2021). Psykhichne zdorovia: sutnist, osnovni determinanty, stratehii ta prohramy zabezpechennia. [Mental health: substance, major determinants, strategies and programmes]. Psychological Journal. 2021. 7(5). S. 26–37. DOI:https://doi.org/10.31108/1.2.7.5.3. (in Ukrainian)
Kyrpenko T.M. (2020). Psykholohichne zdorovia: profesiini ryzyky i zdorovia psykholoha v systemi osvity [Psychological health: professional risks and health of a psychologist in the education system]. / Aktualni problemy psykholohii: Zb. nauk. prats Instytutu psykholohii imeni H.S. Kostiuka NAPN Ukrainy / za red. S.D. Maksymenka. – K.: Instytut psykholohii imeni H.S. Kostiuka,. - Tom 7. Ekolohichna psykholohiia. – Vyp. 49. (in Ukrainian)
Korolchuk M.S., Krainiuk V.M. (2006).Sotsialno-psykholohichne zabezpechennia diialnosti v zvychainykh ta ekstremalnykh umovakh. [Social and psychological support of activities in normal and extreme conditions]: Navchalnyi posibnyk dlia studentiv vyshchykh navchalnykh zakladiv. – K.: Nika-Tsentr. (in Ukrainian)
Kredentser O. V. (2020). Teoretychnyi analiz osnovnykh pidkhodiv do vyznachennia poniattia «zdorovia» v psykholohii. [Theoretical analysis of the main approaches to defining the concept of "health" in psychology]. Aktualni problemy psykholohii : zb. nauk. prats In-tu psykholohii imeni H.S. Kostiuka NAPN Ukrainy. Tom I : Orhanizatsiina psykholohiia. Ekonomichna psykholohiia. Sotsialna psykholohiia. Vyp. 55. (in Ukrainian)
Lozhkin H. V., Kotsan I. Ya., Mushkevych M. I. (2011). Psykholohiia zdorovia liudyny [Psychology of human health]. / Za red. I. Ya. Kotsana.– Lutsk: RVV "Vezha" Volyn. nats. un-tu im. Lesi Ukrainky. (in Ukrainian)
Psykholohichne zabezpechennia psykhichnoho i fizychnoho zdorovia [Psychological support of mental and physical health]. / M. S. Korolchuk, V. M. Krainiuk, A. F. Kosenko, T. I. Kocherhina (2002). Zah. red. M. S. Korolchuka. – K. : Firma «Inkos». (in Ukrainian)
Savchyn M. V. (2013). Dukhovna paradyhma psykholohii. [Spiritual paradigm of psychology]: monohrafiia. Kyiv. (in Ukrainian)
Safin O. D., Kravchenko O. O., Mishchenko M. S. (2020). Zberezhennia psykhichnoho zdorovia u fakhivtsiv inkliuzyvno-resursnykh tsentriv. [Preservation of mental health among specialists of inclusive resource centers]: monohrafiia. Uman : Vizavi. (in Ukrainian)
Myronets, S., Voitenko, E.; Kaposloz, H., Zazymko, O., & Osodlo, V. (2021). Influence of Characteristics of Self-actualization and Coping Behavior on Resistance of Teachers to Professional Stressors and Emotional Burnout. International Journal of Organizational Leadership, 10(1).
M. Korolchuk, V. Korolchuk, S. Myronets, S. Boltivets Y. Pozdnyshev (2021) Comparative characteristics of stress-resistant and non-stress-resistant individual profiles / Propositos Y Representaciones, Т. 9. DOI: 10.20511/pyr2021.v9nSPE2.1102. (Web of Science Core Collection).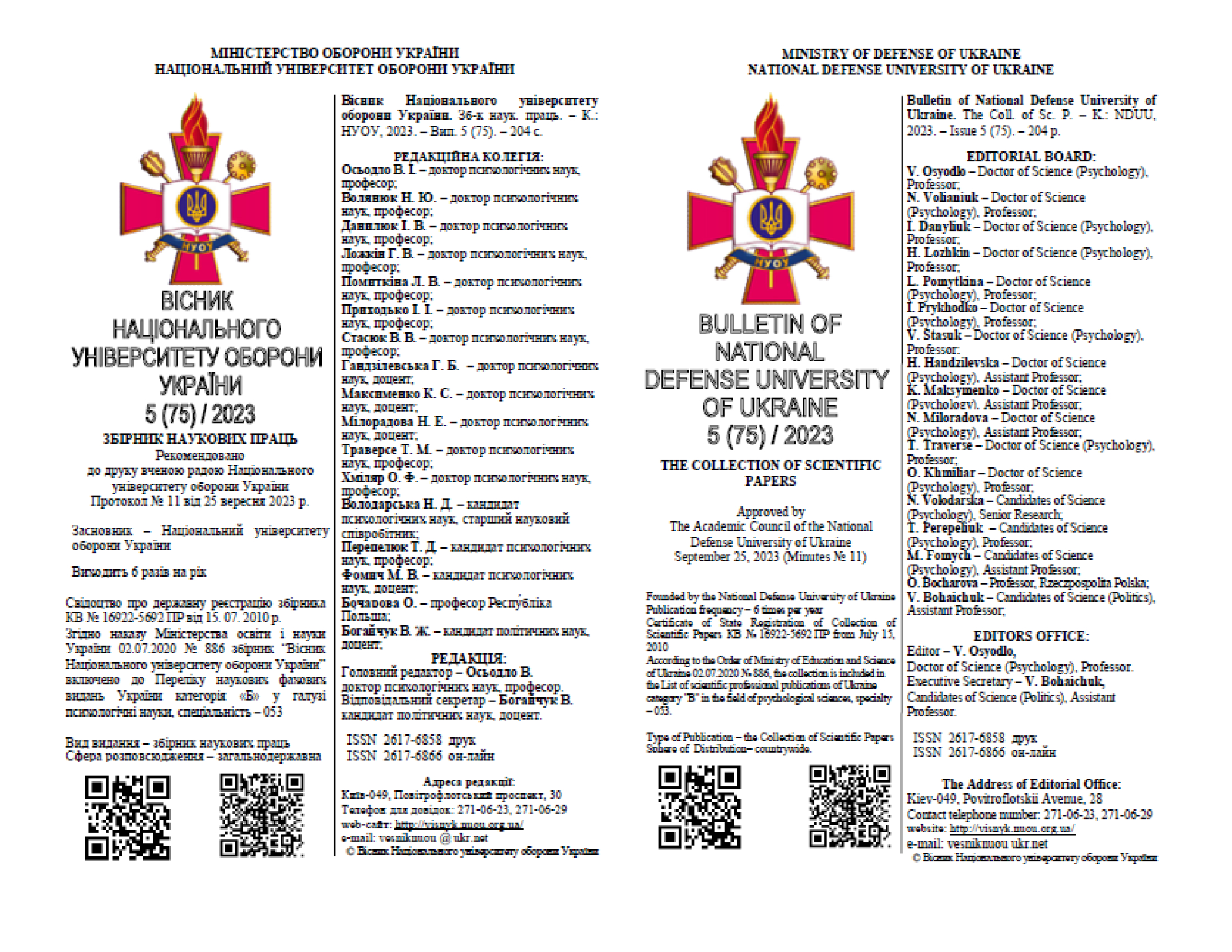 ##submission.downloads##
Як цитувати
Корольчук, В., & Кривда, К. (2023). КАТЕГОРІЯ ЗДОРОВ'Я ТА ЙОГО ПСИХОЛОГІЧНОГО ЗАБЕЗПЕЧЕННЯ У НАУКОВІЙ ЛІТЕРАТУРІ . Вісник Національного університету оборони України, 75(5), 48–57. https://doi.org/10.33099/2617-6858-2023-75-5-48-57
Розділ
ПИТАННЯ ПСИХОЛОГІЇ
Ліцензія
Авторське право (c) 2023 Вісник Національного університету оборони України
Ця робота ліцензується відповідно до Creative Commons Attribution-NonCommercial-ShareAlike 4.0 International License.